News in Brief
Bloomberg: 'Stocks trim gains as inflation concerns increase.'
MarketWatch: 'EU leaders agree to partial embargo on Russian oil.'
U.S. Markets were closed for Memorial Day.
Global Indexes
CAC 40
As the U.S. Markets were closed, I show the CAC 40. This market also broke its negative trend line and 50 day moving average.

DAX
The DAX is in a similar situation and gained with another gap.

HANG SENG
The HANG SENG is also hovering just above its 50 day moving average. We might see some profit taking as we are in overbought territory in all 3 index charts.
NYSE & NASDAQ Stocks
U.S. Markets were closed for a public holiday.
JSE Stocks
Exxaro Resources
After the doji on long term support, Exxaro Resources broke up with a 6.9% gain. Its trend factor also moved into a higher gear with this move.
Capitec Bank Holdings
Banks had a good day on the JSE. Capitec Bank Holdings broke above its negative trend line.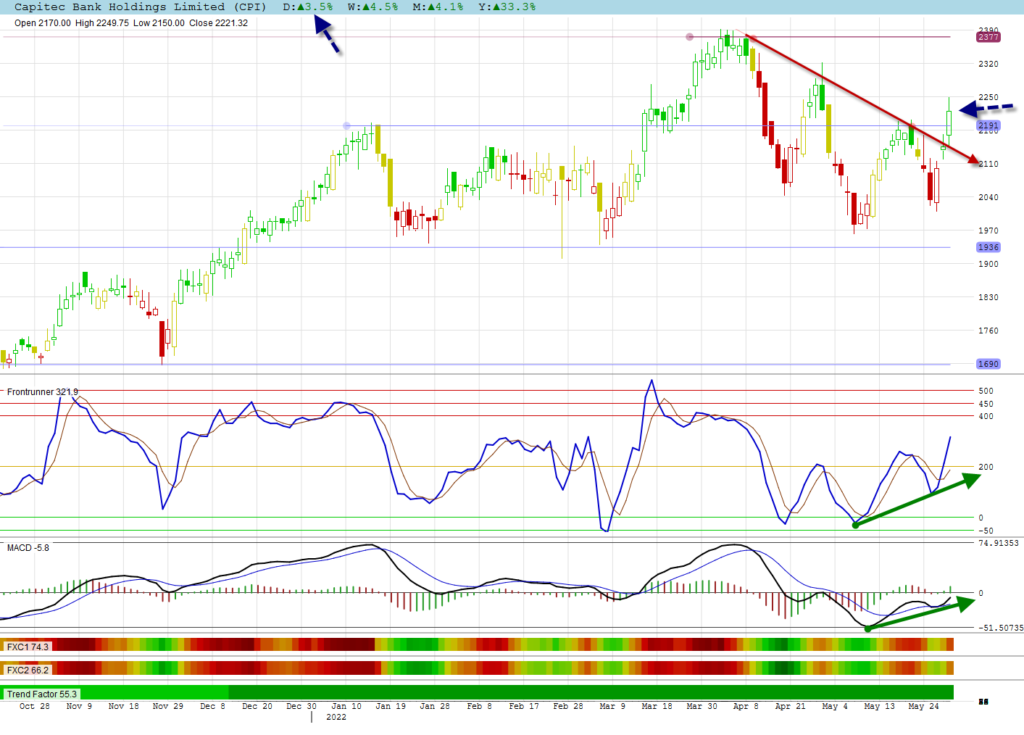 Algomodel Startegies, Education & Features
Click on Education or go to the home page to view education posts.
Gaps, Trend, Frontrunner and Cyclic Indicators are explained in these education posts.
All stock graphs are shown with a Trend Candles Template which is a feature available in Algomodel Signals Pro.
We are currently revisiting all the educational posts and will publish revised versions as they are completed. Lesson 1 will be published soon after this post.