News in Brief
Yahoo:
Amazon stock is working on its sixth daily rally ahead of its 20-for-1 stock split.
MarketWatch:
Stocks are rising ahead of jobs report.
Oil ends higher as OPEC+ boosts output, U.S. crude inventories tumble.
Nasdaq leads stocks higher despite Microsoft cutting guidance.
Small-cap growth stocks are the cheapest they've been in at least 24 years.
Apple stock to suffer first 'death cross' pattern since the pandemic.
Very few of the engulfing bear candles were confirmed as the markets bounced on support.
Global Indexes
S&P 500
The current bull trend stay in play for the S&P 500 as it bounced off its EMA8 and positive trend lines.
DAX
The DAX remained above its 3 support lines: EMA8, 50 day moving average and positive trend lines with a 1% gain.

Nikkei 225
The Nikkei 225 jumped with a gap and is currently trading on its negative trend line just below its 200 day moving average. The 200 day moving is its last hurdle to be in all positive territory.

NYSE & NASDAQ Stocks
Apple Inc
I am showing Apple Inc with my index template to show the 'death cross' pattern. When the 50 day moving average (dark blue) crosses the 200 day moving average (pink) it is called 'death cross'. I am not a strong believer in it as both average are medium to long term averages that lags. The share made an engulfing bull candle and bounced on its EMA8 line to continue the current bull trend.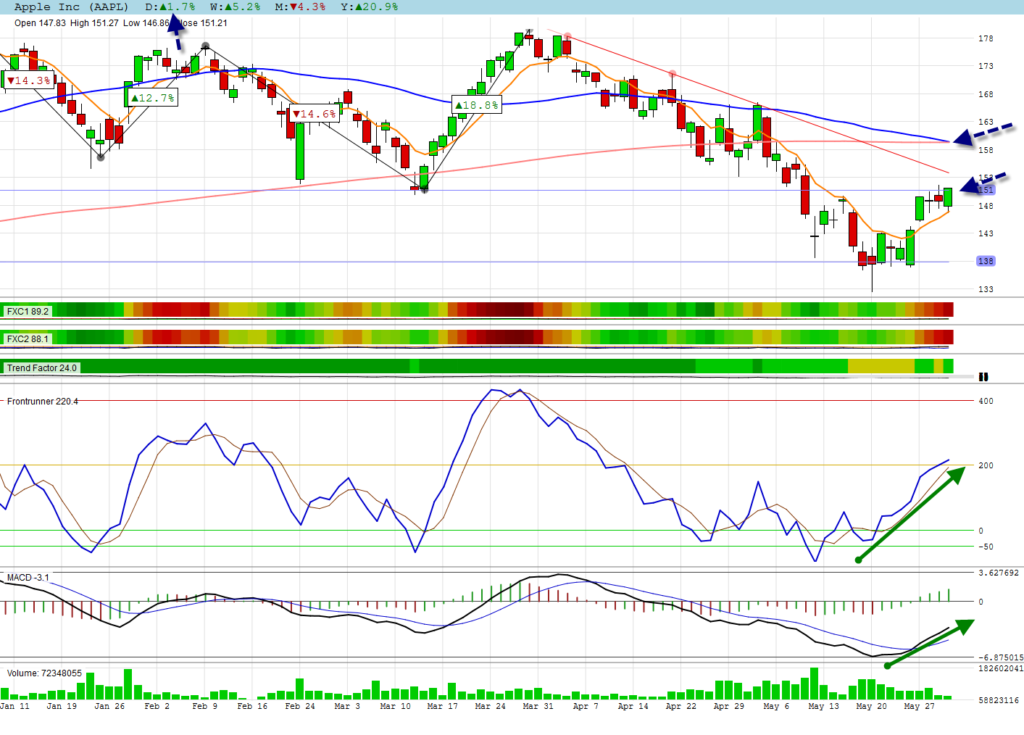 NVIDIA Corporation
NVIDIA Corporation started to make a small J-curve, but continued with its positive trend that was started.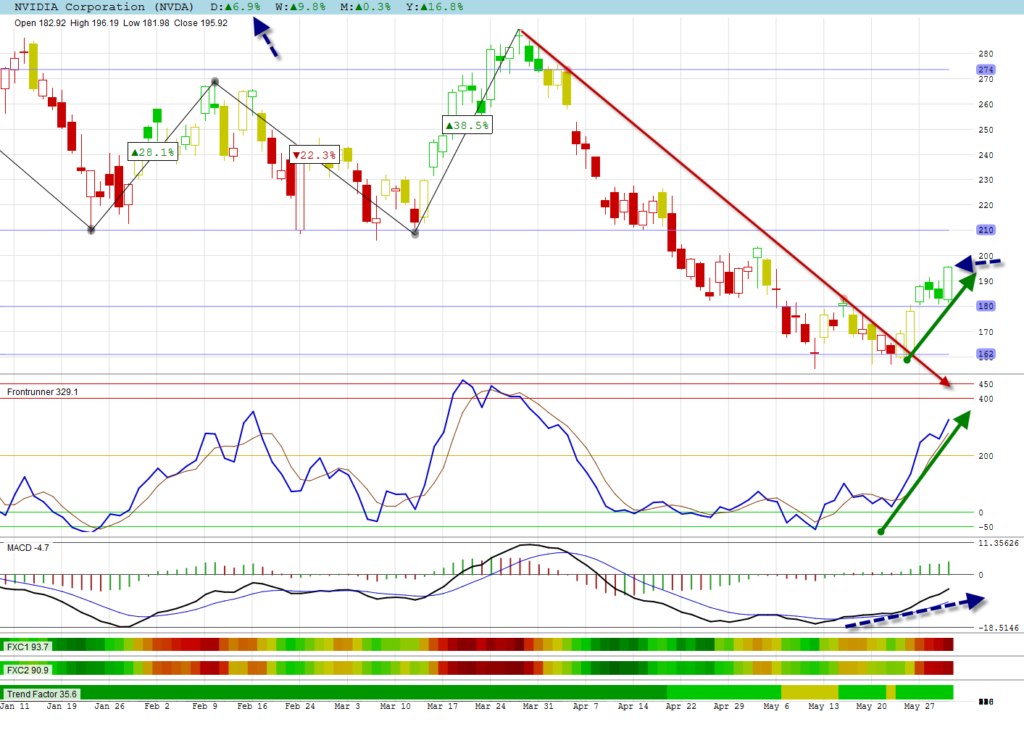 JSE Stocks
Platinum
I must show the Platinum price that moved into second gear after the negative trend line was broken.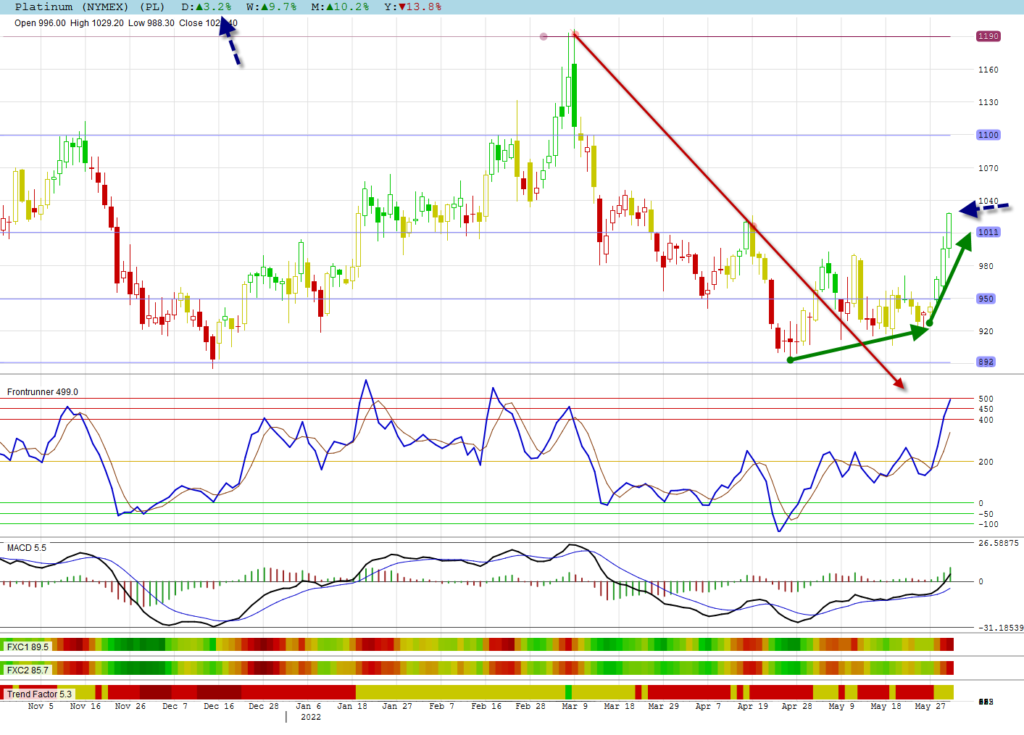 Northern Platinum Hldgs
The platinum producer Northern Platinum Hldgs is still in first gear and has not followed the platinum price yet. Frontrunner is way ahead.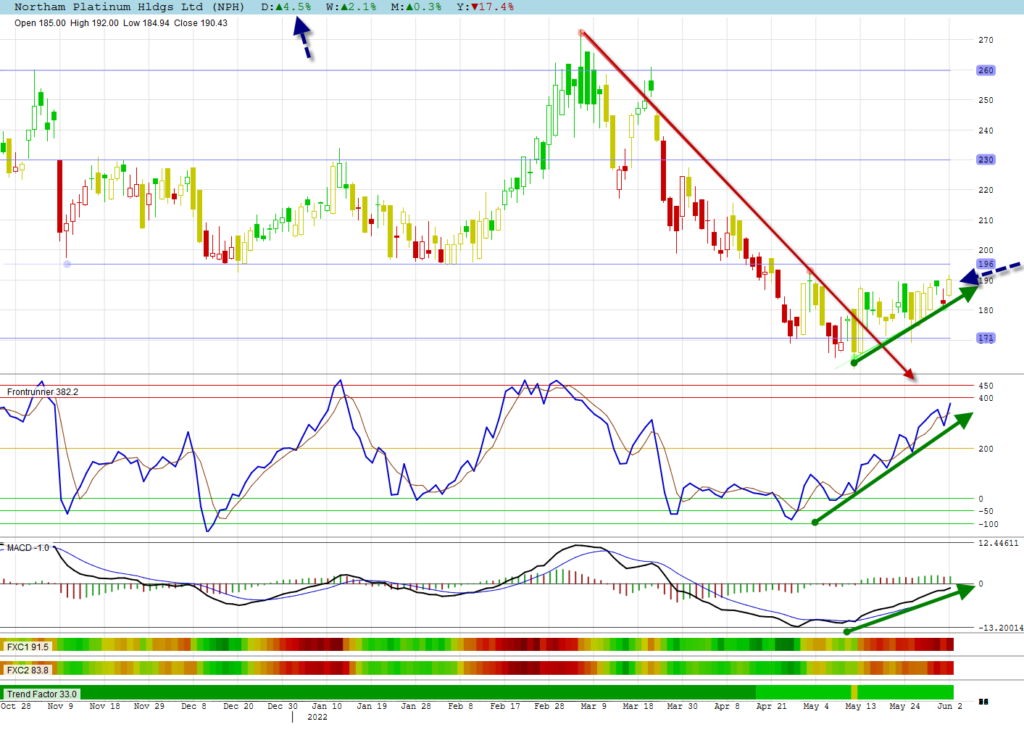 Algomodel Startegies, Education & Features
Click on Education or go to the home page to view education posts.
Frontrunner, Gaps, Trend and Cyclic Indicators are explained in these education posts.
All stock graphs are shown with a Trend Candles Template which is a feature available in Algomodel Signals Pro.
We are currently revisiting all the educational posts and will publish revised versions as they are completed.