News in Brief
Bloomberg:
US Stocks suffers worst week since January as inflation runs hot
TSMC's $100 billion wipeout fails to faze bullish analysts
MarketWatch:
'Catastrophically bad' inflation report is boosting chances of a 75-basis-point interest-rate hike
BARRON'S Inflation is hot, and stocks are cold. Now the Fed needs to rethink its rosy projections
For now, China's crackdown on tech seems to be passing. But will it last?
Yahoo! finance:
Stocks crushed after inflation hits 40-year high
Tesla announces 3-for-1 stock split
The "SUPERBUBBLE" finally popped as the Bears took full control of the US Market after the bad inflation report. There is a time to be in the market and a time to be out!
Global Indexes
S&P 500
After the S&P 500 broke its EMA8 line, it followed up with a breakaway gap downwards. We are back in all negative territory.

Nasdaq
Similar circumstances for the Nasdaq, except for an even worse Trend Factor (Dark Red: -11.4).

DAX
The writing was on the wall when the DAX broke down, also with a breakaway gap, earlier the day. Notice that the positive trend line was broken the previous day.

HANG SENG
The HANG SENG is following other Global markets and broke down with a gap today after sitting on its EMA8 line on Friday.

NYSE & NASDAQ Stocks
Caesars Entertainment Corp
Caesars Entertainment Corp made the largest drop in the S&P500, but it was already in second gear with its correction. Notice that Frontrunner broke down the previous day with red MACD bars. This will be explained in the system lessons that should follow soon.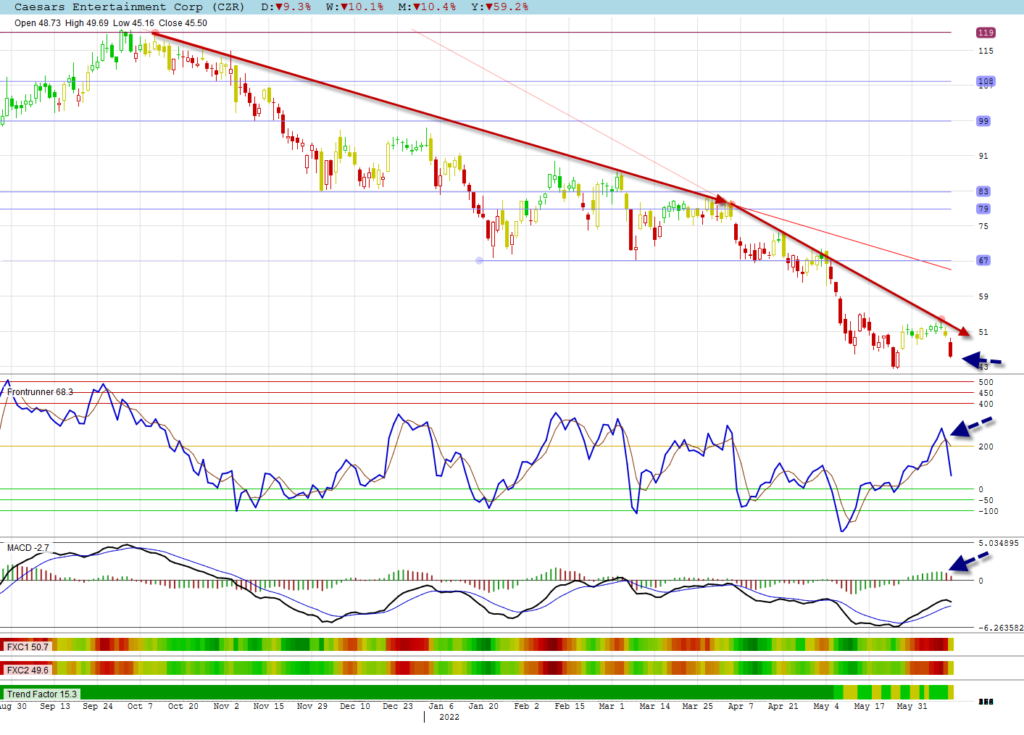 Caterpillar Inc
Caterpillar broke its positive trend line the previous day. Frontrunner also broke down in overbought territory and red MACD bars followed. After all the negative signals, the breakaway gap came.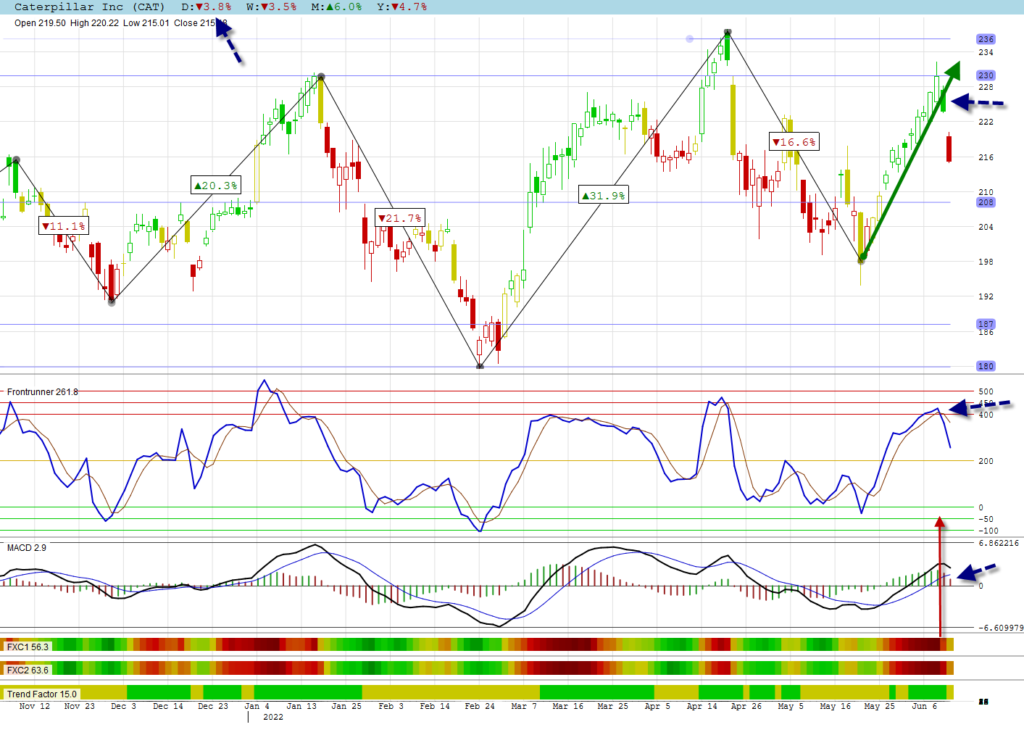 JSE Stocks
Satrix 40 Portfolio
The Satrix 40 Portfolio did not escape the global correction and is also following these markets lower. I marked the Frontrunner break in overbought territory.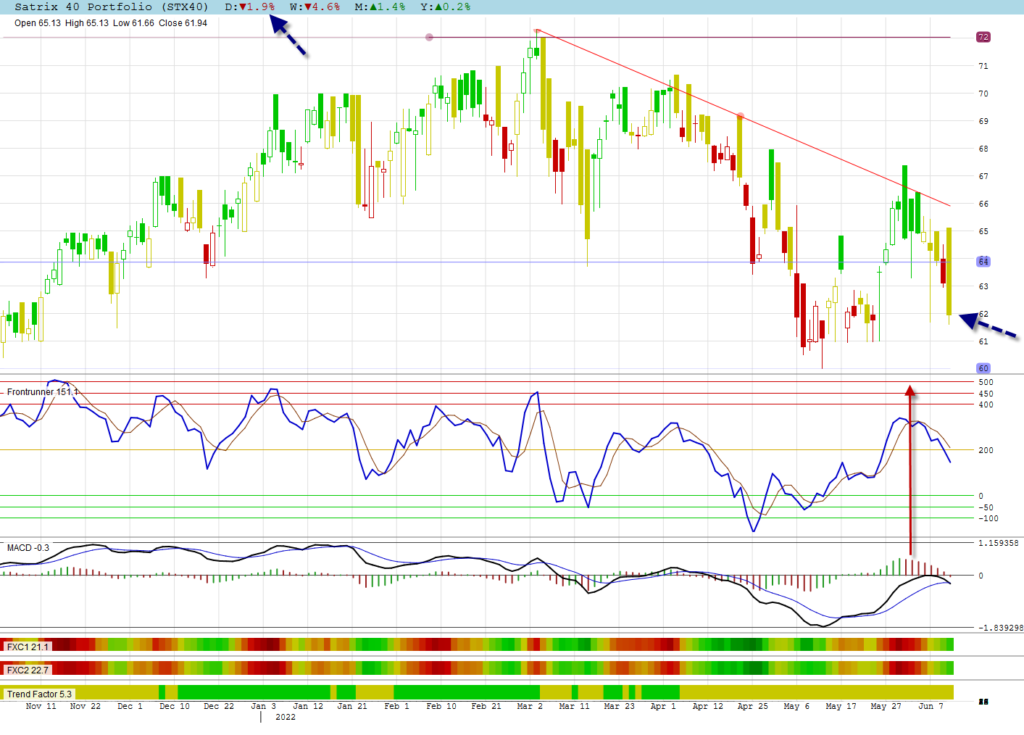 Anglo American plc
If you are following these market reviews, you would know that I am a strong believer in divergence for major turns. The sequence for Anglo American's turn was:
Divergence was in place
Trend line was broken
Engulfing Bear candle followed
MACD was making red bars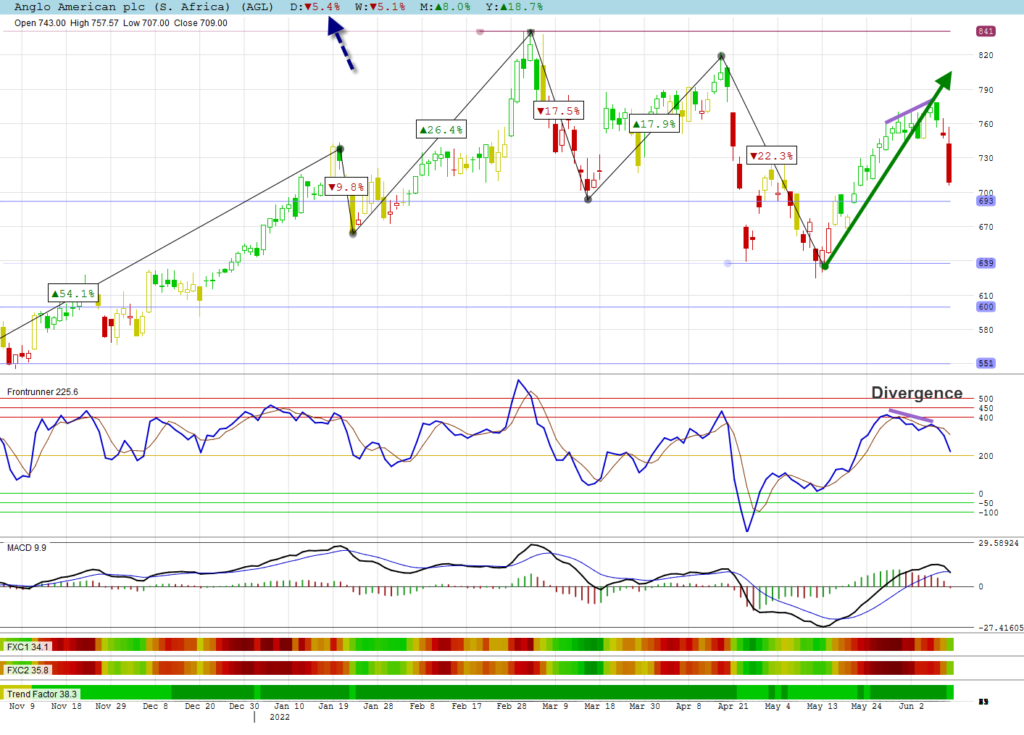 Algomodel Startegies, Education & Features
Click on Education or go to the home page to view education posts.
Frontrunner, Gaps, Trend and Cyclic Indicators are explained in these education posts.
All stock graphs are shown with a Trend Candles Template which is a feature available in Algomodel Signals Pro.
We are currently revisiting all the educational posts and will publish revised versions as they are completed.