News in Brief
Bloomberg:
Fed hikes 75 basis points; Powell says 75 or 50 likely in July
Wall Street's latest bear market may be here to stay for a while
MarketWatch:
'The economy is going to collapse', says Wall Street veteran Novogratz. 'We are going to go into a really fast recession.'
Musk's Twitter staff meeting: He downplayed layoffs and pushed free speech for users
U.S. inflation expected to keep running hot: Traders see 4 straight months of roughly 9% or higher CPI readings
Wall Street is officially in a bear market and the U.S. markets made a further steep decline.
Global Indexes
S&P 500
The S&P 500 is in 3rd gear with its correction and busy completing the top right ellipse shape of the correction. When a new bull market starts, it will be a very slow one after this fierce correction.

DAX
The DAX is also busy with a steep correction.

HANG SENG
The HANG SENG is the only index that is still managing to stay above its 50 day moving average (dark blue), but also below its EMA8 line.

NYSE & NASDAQ Stocks
MGM Resorts International
MGM Resorts International is similar to the index in 3rd gear. I want to make a prediction! As we have divergence in place and already in 3rd gear with the correction, we are close to a bottom?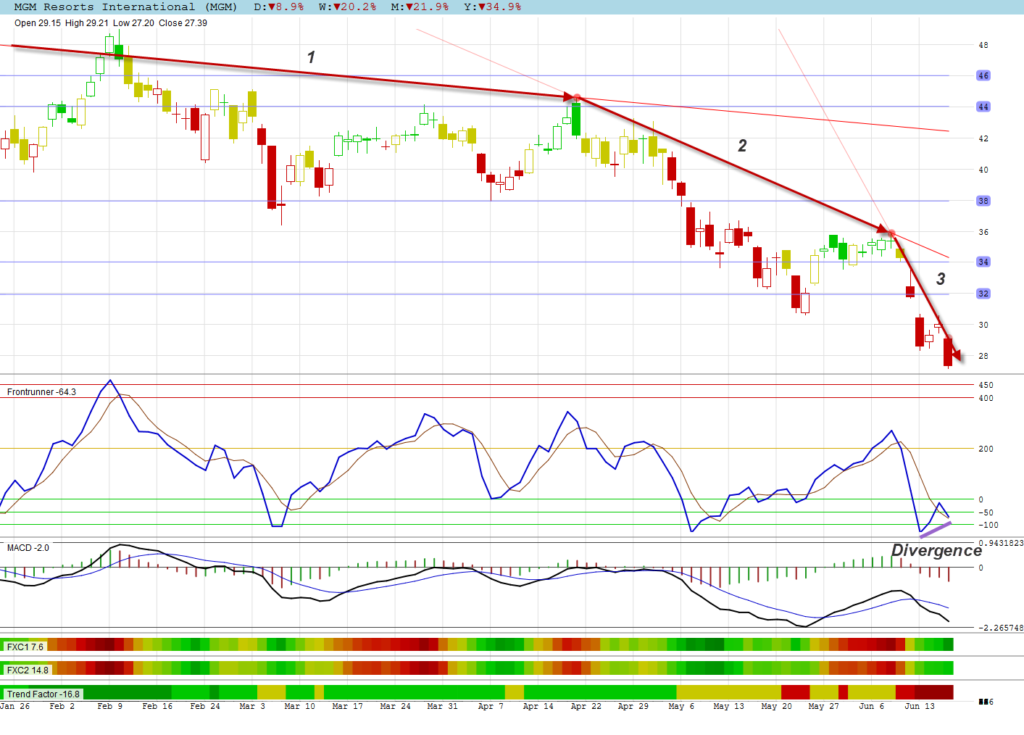 Bank of America
Bank of America is busy with leg 5 its correction and we also have divergence in place. A 5 leg correction is normal in a fierce correction.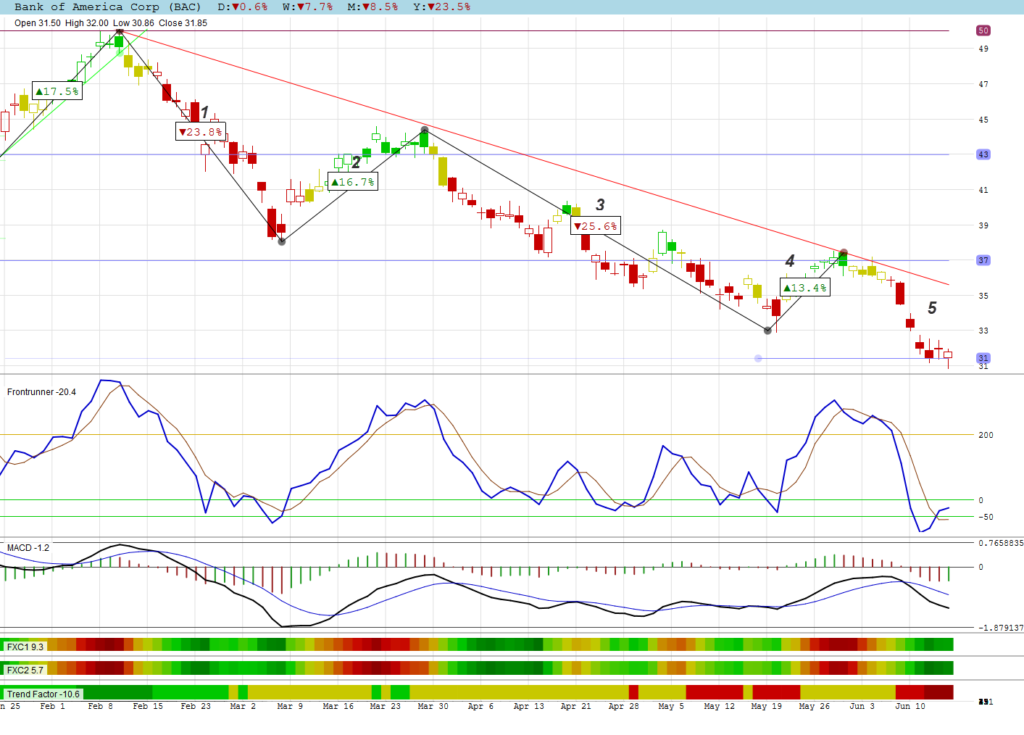 JSE Stocks
Satrix 40 Portfolio
The JSE was closed yesterday, but the Satrix 40 Portfolio closed with an engulfing bull bounce on Wednesday. This happened on the 60 level support. Because the US had a fierce correction, I do not think we will get confirmation of this candle, but rather a test of the 60 level.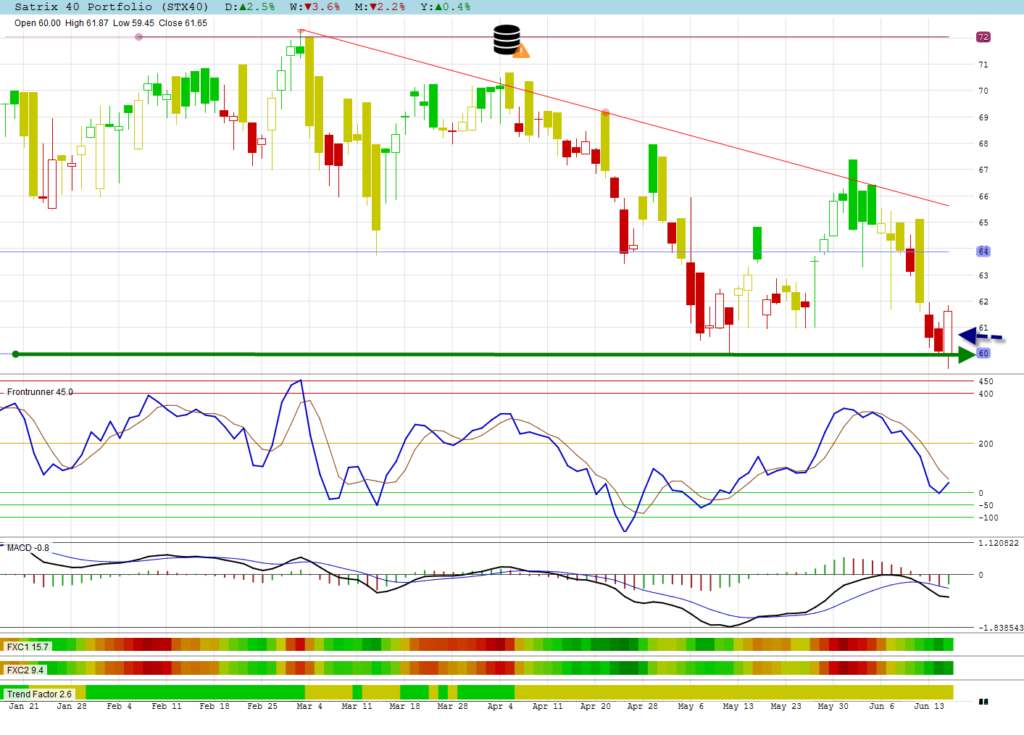 Brent Crude
Brent Crude broke its positive short term trend and even the MACD is breaking down. Is this going to hold to give relieve for the fuel prices?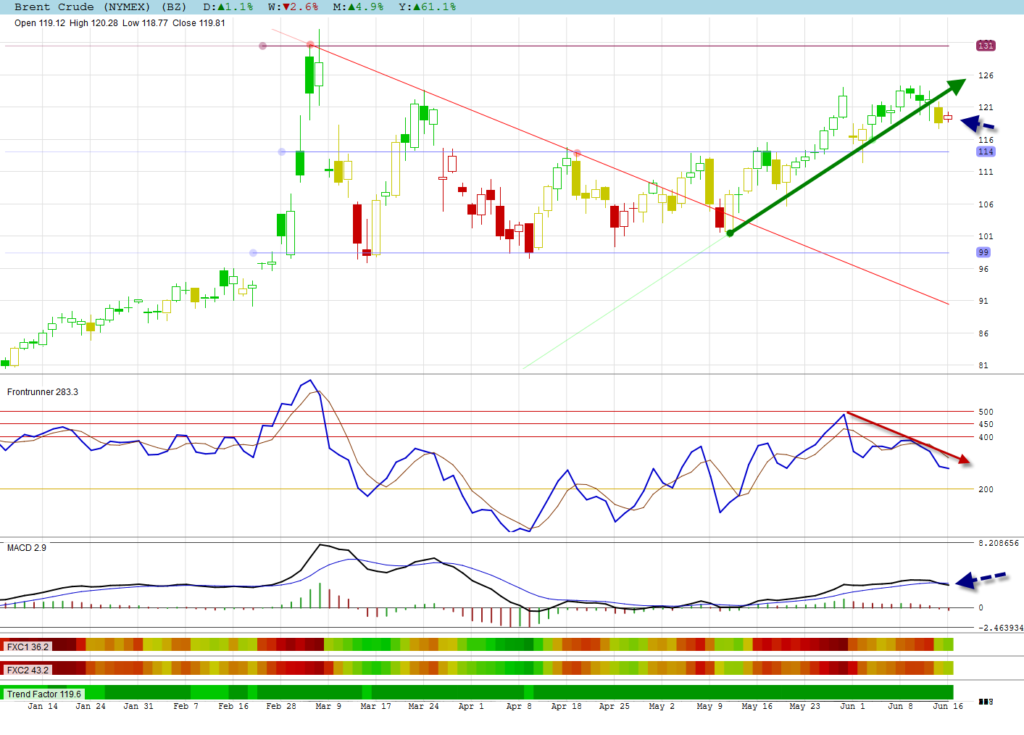 Algomodel Startegies, Education & Features
Click on Education or go to the home page to view education posts.
Frontrunner, Gaps, Trend and Cyclic Indicators are explained in these education posts.
All stock graphs are shown with a Trend Candles Template which is a feature available in Algomodel Signals Pro.
We are currently revisiting all the educational posts and will publish revised versions as they are completed.