News in Brief
Bloomberg:
For all their worries, investors are oiling into US stocks
Putin gets inexpected pushback from ally over war in Ukraine
China's stock rally is becoming a lifeline for Asian portfolios
MarketWatch:
The next bull market is just months away and could take the S&P 500 to 6000: A BofA history lesson
The Fed turns aggressive as inflation meets signs of an economic slowdown
Citigroup stock is the cheapest of the big banks. It's ready to take off
Yahoo! finance:
Deutsche Bank now expects earlier and somewhat more severe recession
Stocks still log worst week since March 2020
When news are at it worst …. it is time to buy?
Global Indexes
S&P 500
Another uncertain small body candle for the S&P 500 in very oversold territory.

Nasdaq
Similar circumstances for the Nasdaq.

DAX
And as no surprise, the same for the DAX.

HANG SENG
The HANG SENG is squashed between its 50 day moving average (dark blue) and positive trend line on the one side and The EMA8 line just above. The support is consolidating on is a previous gap. A break, up or down, is imminent.

NYSE & NASDAQ Stocks
Abbott Laboratories
Like most shares Abbott Laboratories is sitting on a two year low support in oversold territory. It made an Engulfing bull candle with Frontrunner breaking up and the MACD bars turning green. The next move will determine if it can break the short term trend line completely.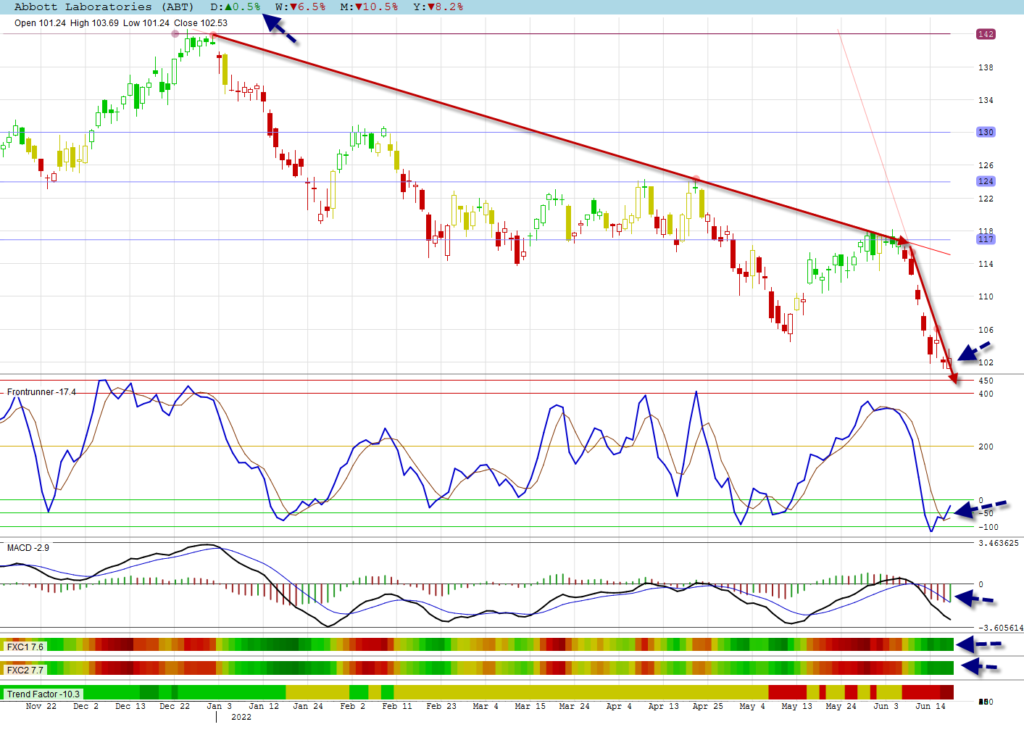 UnitedHealth Group Inc
Surprisingly UnitedHealth Group Inc is only busy with an abc correction and not a 5 leg correction as most of the shares are doing in this bear market. Frontrunner started to break in oversold territory to give an alert for a turn.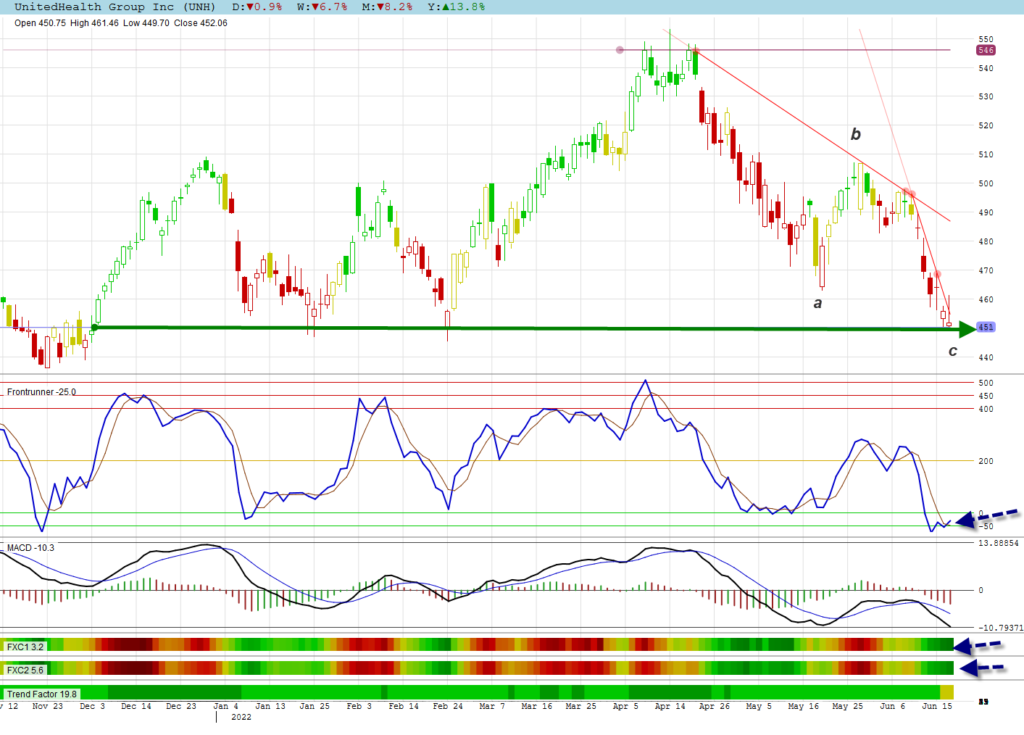 JSE Stocks
Satrix 40 Portfolio
The Satrix 40 Portfolio did not bounce further, but rather tested the 60 support with a negative candle. Even the Trend Factor is turning negative.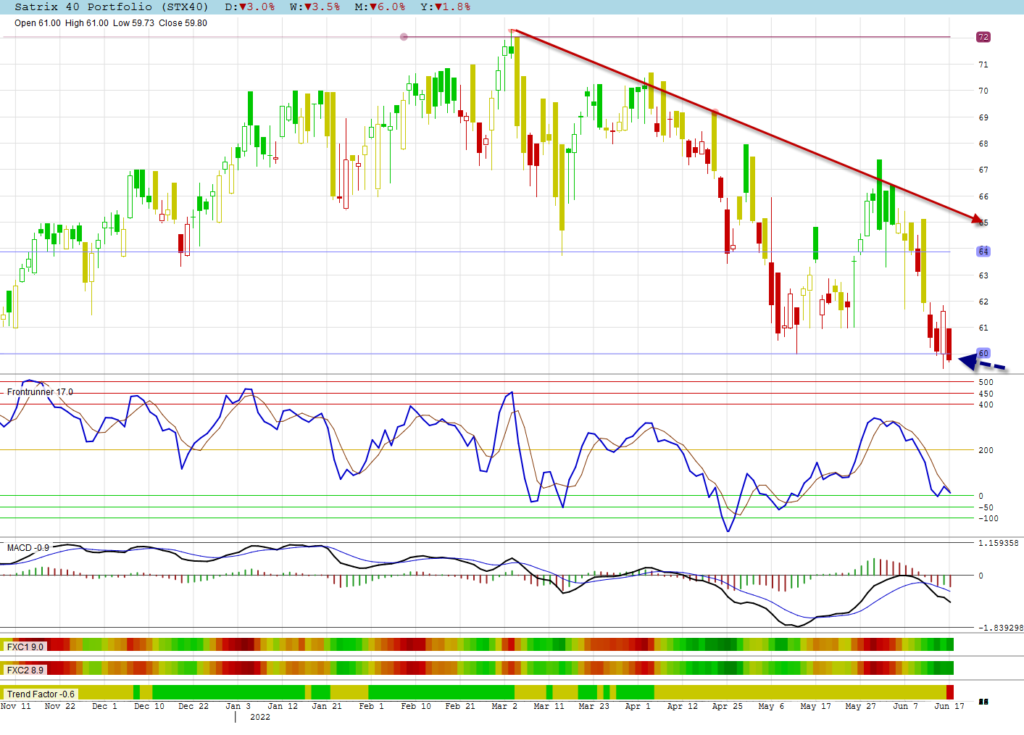 Anglo American plc
I showed last week when Anglo America turned, and if you did not sell, you would have given up the previous gain of 22%. As it is getting closer to the previous support, it is also moving into oversold territory currently. Notice how accurately Trend Candles are showing the waves.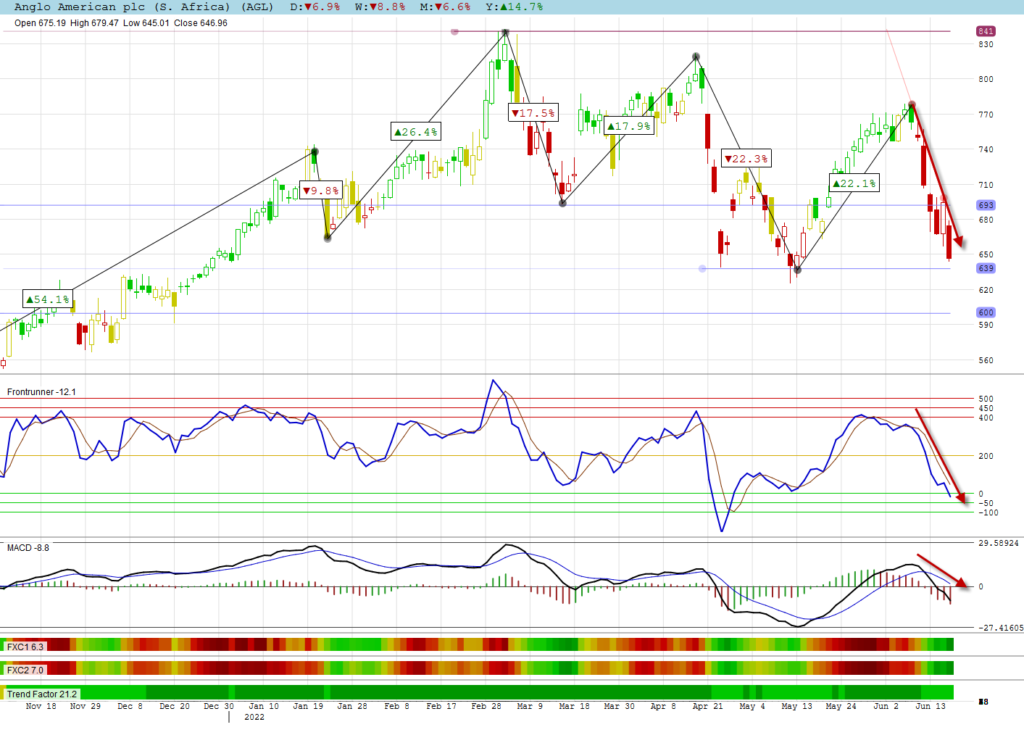 Algomodel Startegies, Education & Features
Click on Education or go to the home page to view education posts.
Frontrunner, Gaps, Trend and Cyclic Indicators are explained in these education posts.
All stock graphs are shown with a Trend Candles Template which is a feature available in Algomodel Signals Pro.