Bloomberg:
JPMorgan China fund ramps up bets on tech as bullish calls grow
X-rated recession risks can't be covered up
China bulls have got it wrong as Covid Zero stays, Lombard says
MarketWatch:
You shouldn't trust the stock market bounce until the S&P 500 is back above 3800, analyst say
Dow ends nearly 200 points higher after Powell concludes Capitol Hill testimony with vow to battle inflation
Ignoring the news, the Global Indexes are busy breaking their EMA8 lines!
Global Indexes
S&P 500
The S&P 500 and Nasdaq broke their EMA8 lines while the Dow closed on it. Notice that after the last Power signal the short term negative trend line was broken.

DAX
I adjusted my negative short term trend line for the DAX to include the previous top. This index was still all negative yesterday.

HANG SENG
The HANG SENG also broke its EMA8 line, but is still caught in between the trendline wedge lines.

NYSE & NASDAQ Stocks
Bio-Rad Laboratories
The key for Bio-Rad Laboratories turn was the candle formation at the bottom. (will be our next lesson) Notice the power signal on the inverted candle to give a strong alert of a turn.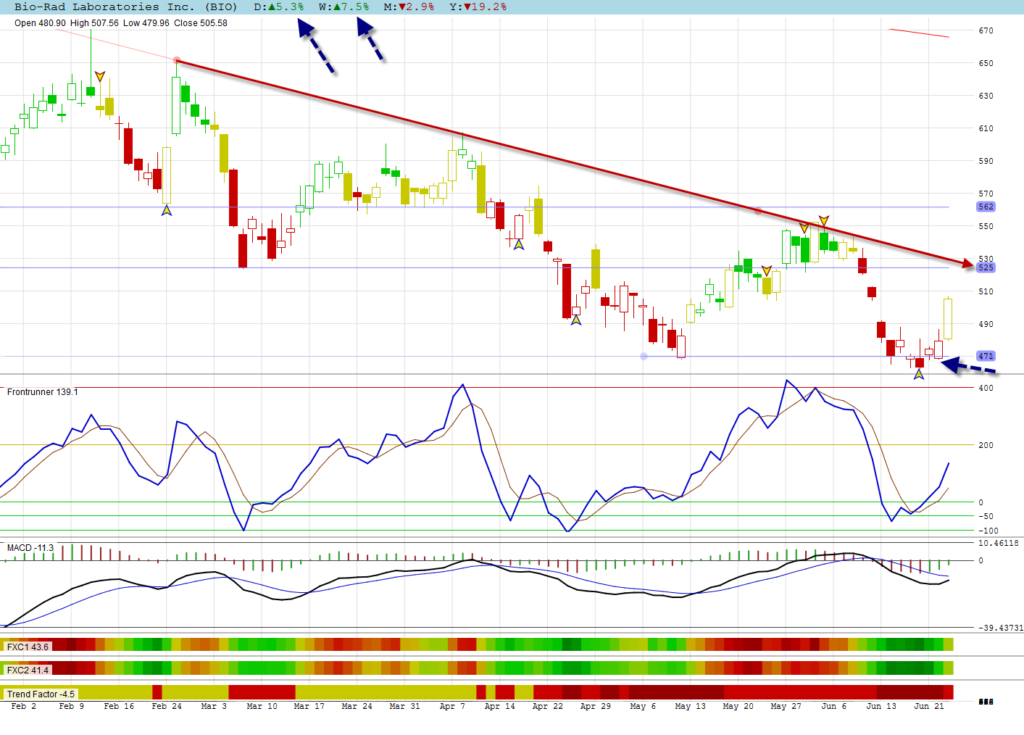 Enphase Energy Inc
Ater the 21.9% correction, Enphase Energy Inc is moving strong again with a weekly gain of 18.3%.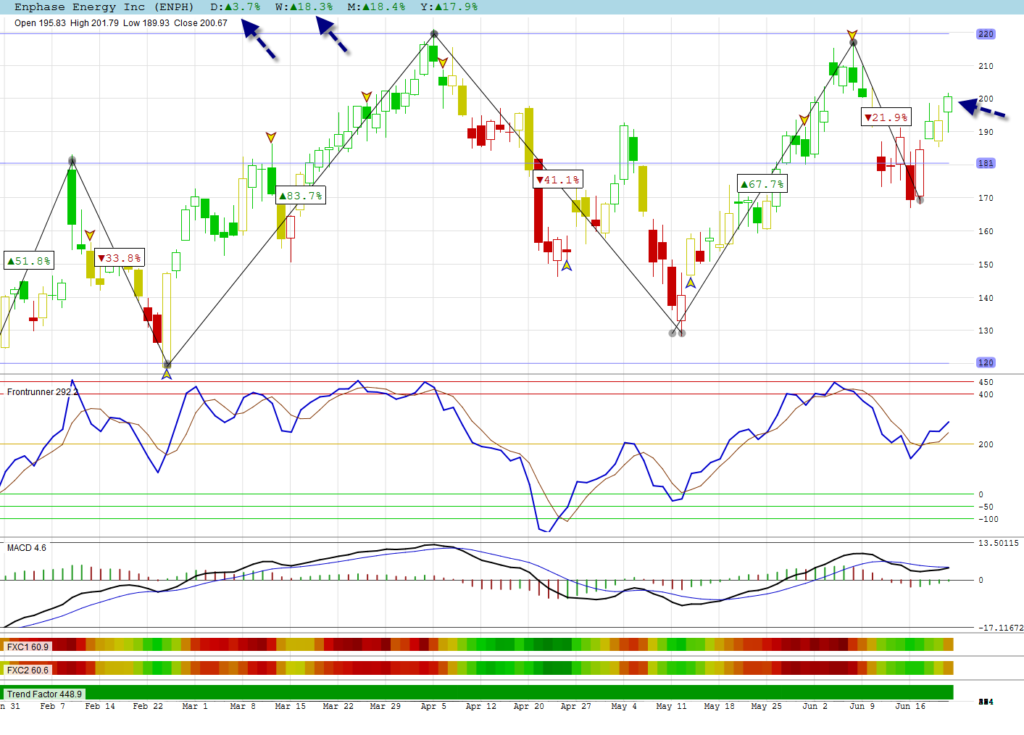 JSE Stocks
Satrix 40 Portfolio
The volatility for the Satrix 40 Portfolio has no end at the current level. It closed below support again, but hopefully it will follow Global markets higher today.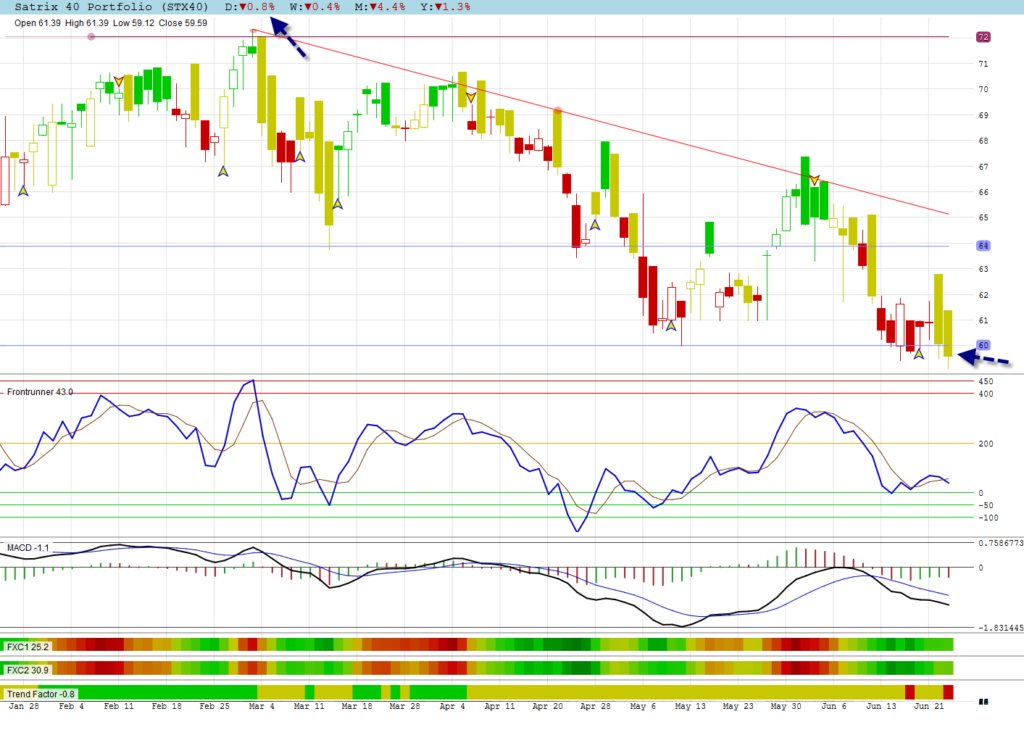 Prosus NV
Prosus is slowly but surely trending positively. Can this be the first leg of a bull market? First legs are usually only a steady gain.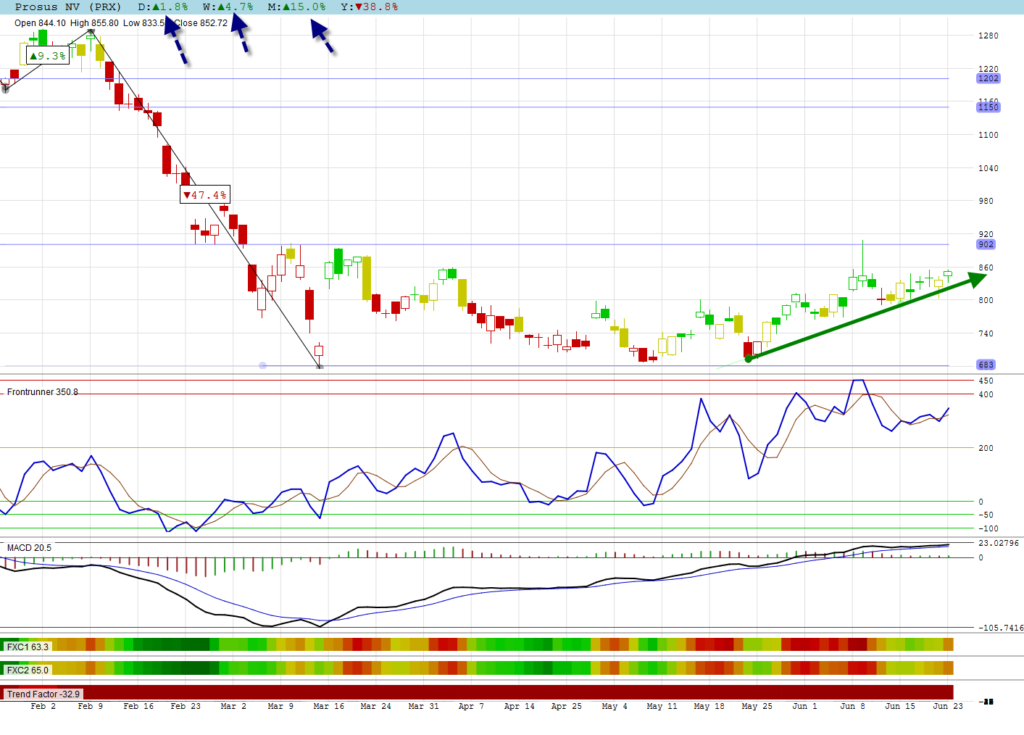 Algomodel Startegies, Education & Features
Click on Education or go to the home page to view education posts.
Frontrunner, Gaps, Trend and Cyclic Indicators are explained in these education posts.
All stock graphs are shown with a Trend Candles Template which is a feature available in Algomodel Signals Pro.