Bloomberg:
Stocks notch their best three-day rally since May
Recession fears see #85 billion fund manager bet on India stocks
MarketWatch:
Stock market turbulence may not be scaring off retail investors
S&P 500, Nasdaq book third straight day of gains on better corporate earnings than feared
Rivian stock rises as Amazon starts using EV maker's electric delivery vans
The U.S. closed positive after starting negative until better earnings lifted the markets.
Global Indexes
S&P 500
The S&P 500 has now closed 3 days above its 50 day moving average in positive territory.

DAX
The DAX is still hesitating just below its 50 day moving average with the long-legged doji.

HANG SENG
The HANG SENG is still in all negative territory, but hanging around its EMA8 line by still touching it.

NYSE & NASDAQ Stocks
Rivian Automotive Inc
Rivian Automotive is slowly building on a first leg of a bull trend after the 88.9% bear drop. The fact that Amazon started using their delivery vans is also helping. It is lifting from a very low base.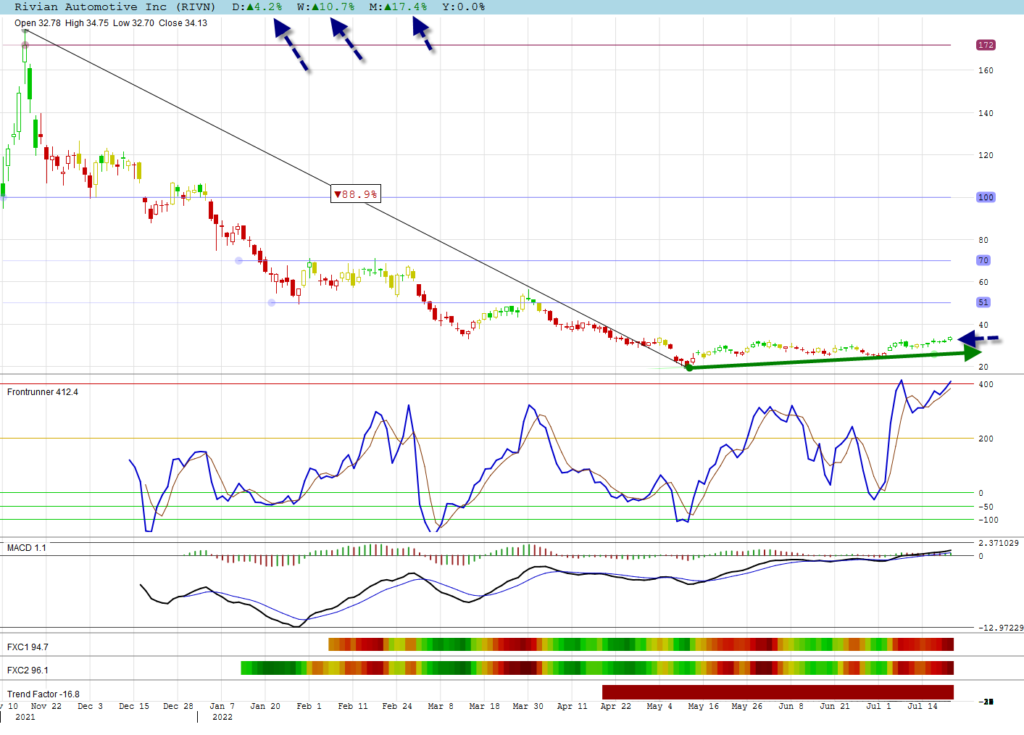 Nucor Corporation
Nucor is becoming one of my favorite stocks. After the abc correction it made a breakaway gap to break the negative trend line. This was followed with another two continuation gaps. Yesterday it was the third best gainer listed on the S&P 500. The first two gaps were insider information, followed by the real announcement. Insider trading is alive and well, but gaps helps you without knowing the facts.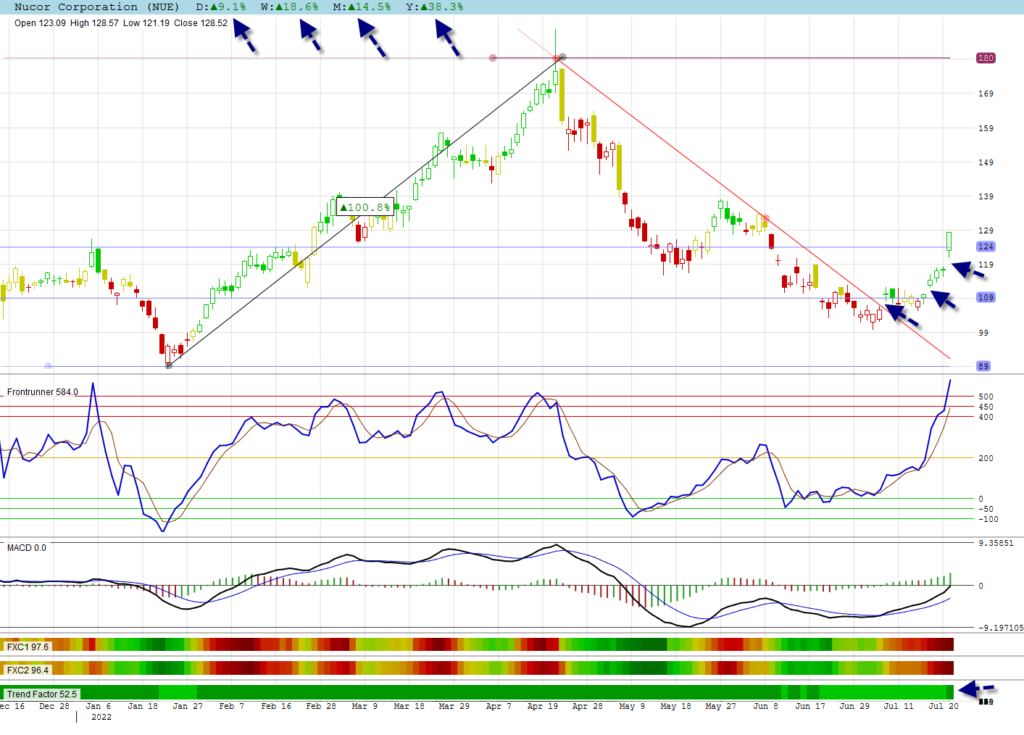 JSE Stocks
JSE All Share
The JSE All Share is very uncertain just below its negative trend line with a spinning top candle touching it that was followed with a hammer candle. See lesson 9 for an explanation of these candles.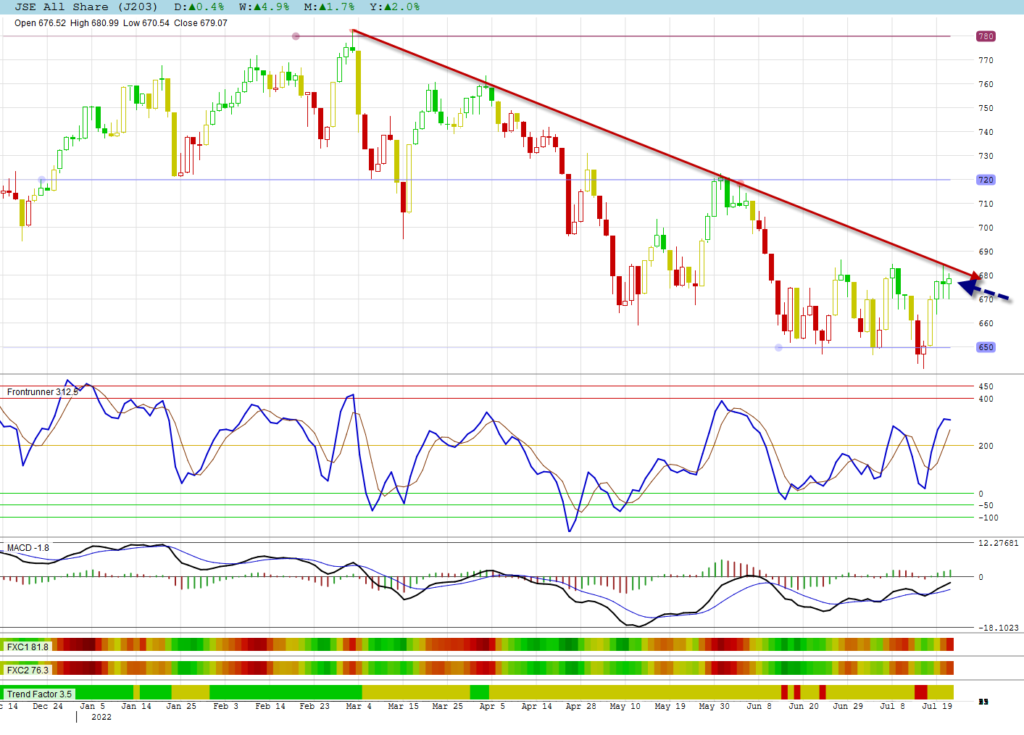 Exxaro Resources Limited
Exxaro Resources bounced down from its long term negative trend line.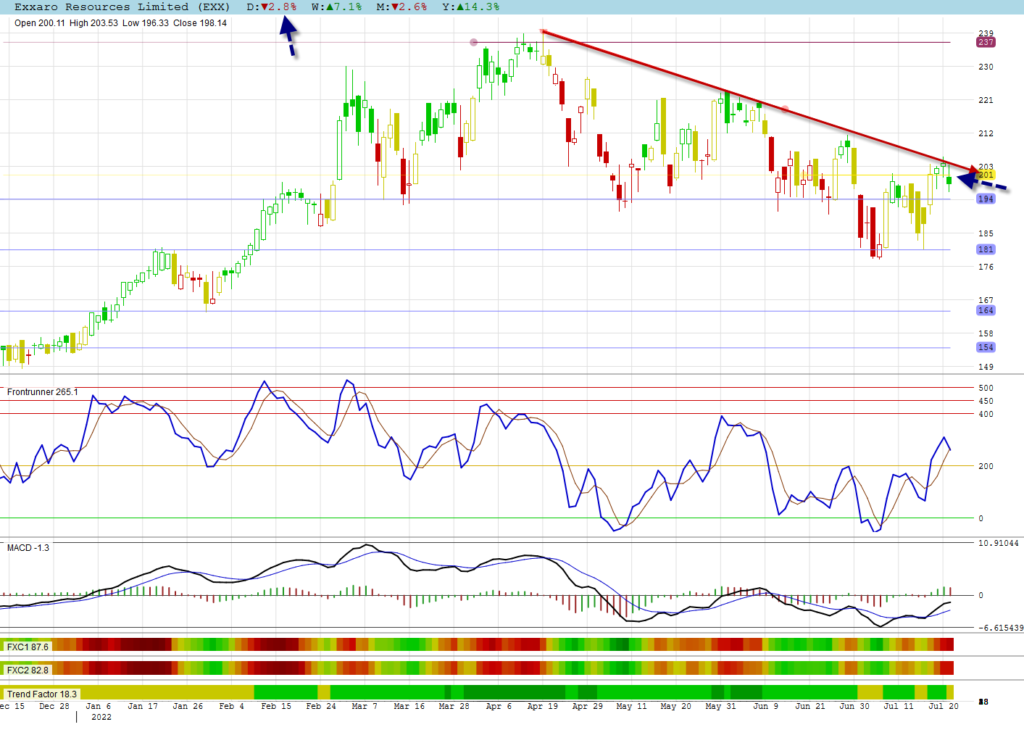 Algomodel Startegies, Education & Features
Click on Education or go to the home page to view education posts.
Frontrunner, Gaps, Trend and Cyclic Indicators are explained in these education posts.
All stock graphs are shown with a Trend Candles Template which is a feature available in Algomodel Signals Pro.