Bloomberg:
Amazon, Apple add $196 billion value on resilient results
Apple, Alphabet earnings fuel megacap stock recovery
Alibaba drops as inclusion in US delisting list fuels jitters
MarketWatch:
Elon Musk says inflation may have peaked. Bill Ackman agrees, but says the Fed is still making a mistake.
Most investors still don't understand the relationship between risk and return
S&P 500, Dow score biggest monthly gains since November 2020, Nasdaq books best July ever
yahoo! finance:
Chart shows a recession call isn't coming anytime soon
Twitter wants to force Musk to buy it
All markets are moving positively except the Hang Seng. The meltdown was sparked by the worry that Chinese firms could be ostracized if the nation is seen as helping Russia with its war in Ukraine.
Global Indexes
S&P 500
The S&P 500 moved into second gear and is making a steeper positive trend.

NASDAQ
Similarly for the NASDAQ.

DAX
The DAX broke its 50 day moving average with a gap. I see this gap as a continuation gap after the positive formation on the EMA8 line.

HANG SENG
The HANG SENG remains below all resistances above, in all negative territory as investors are doing a selloff.

NYSE & NASDAQ Stocks
Apple Inc
The 200 moving average was added on the chart of Apple to show how it was broken with a gap. When the results are good, you get rewarded. If not, your share price get slaughtered like Intel that dropped 8.6% for the day.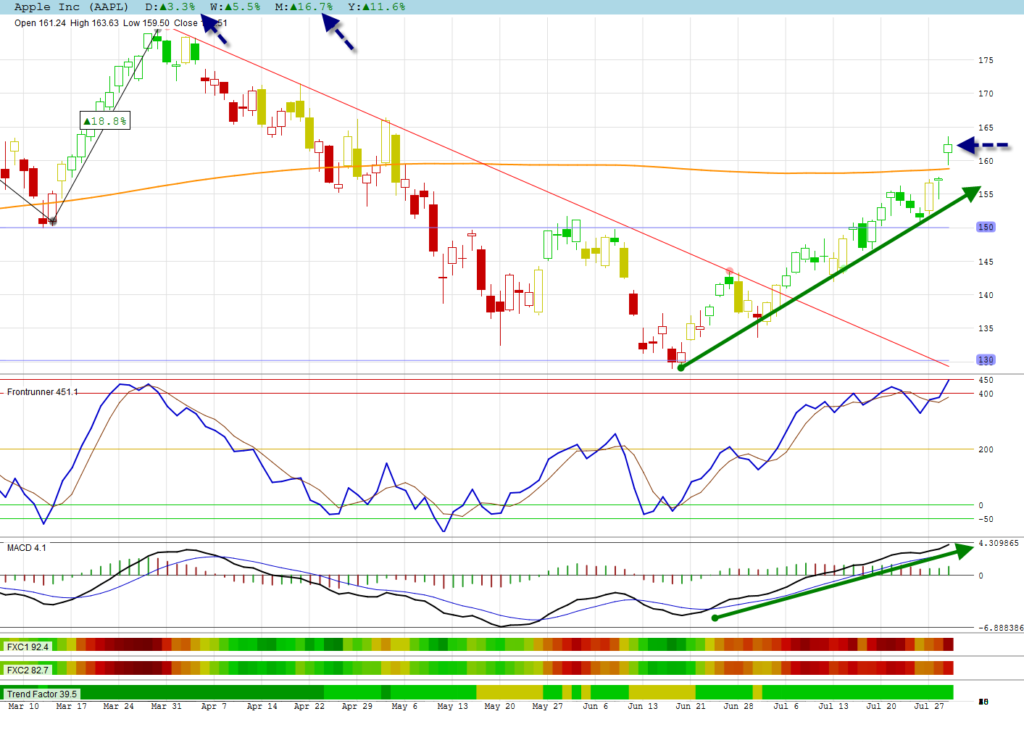 Caterpillar Inc
Caterpillar is also approaching its 200 day moving average fast. The 200 day moving average is important as some institutions only invest in shares that are above their 200 day moving averages. Notice that Frontrunner is also breaking above top resistance to warn that more new highs are coming.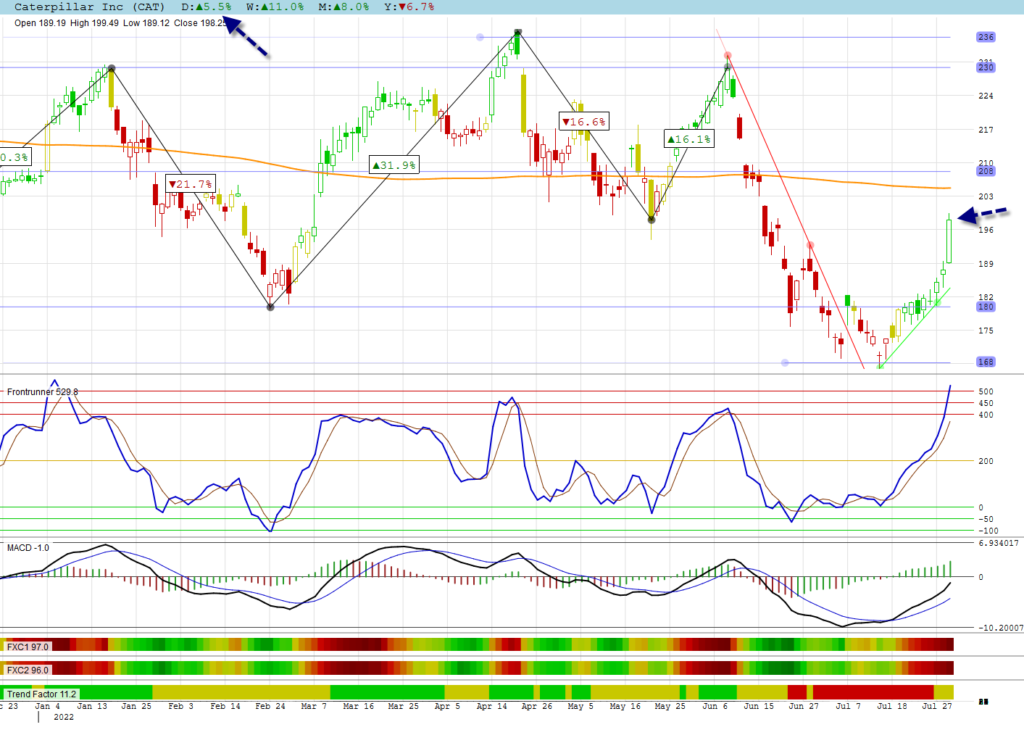 JSE Stocks
Palladium
The Palladium price is breaking a negative trend line and its 200 day moving average simultaneously. Notice where the Power signal was given at the bottom turn.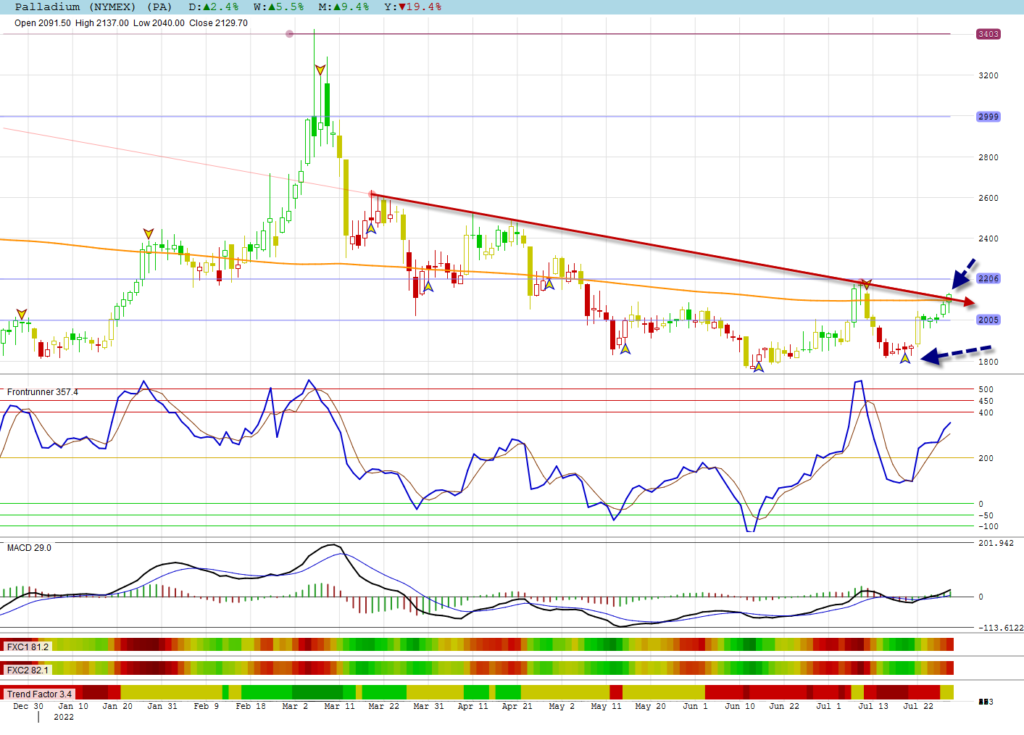 Anglo American plc
The candle with the large upper shadow was not confirmed and Anglo American continued its positive move. Its 200 day moving average is still some distance away.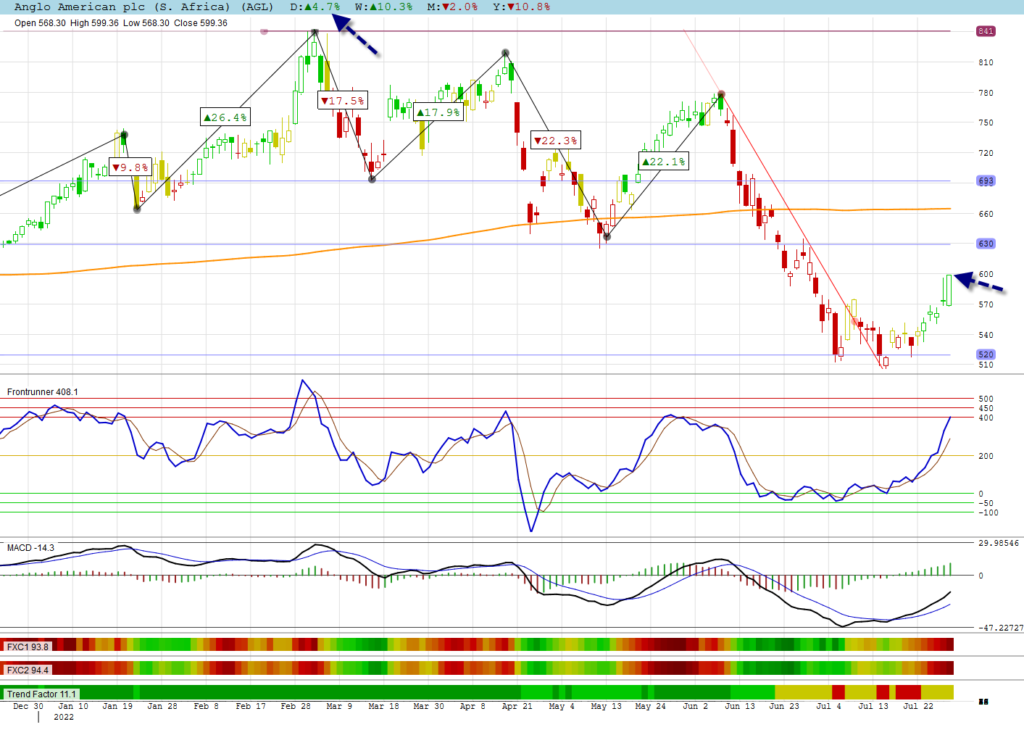 Algomodel Startegies, Education & Features
Click on Education or go to the home page to view education posts.
Frontrunner, Gaps, Trend and Cyclic Indicators are explained in these education posts.
All stock graphs are shown with a Trend Candles Template which is a feature available in Algomodel Signals Pro.